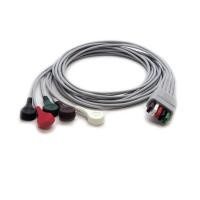 Over the last two weeks, we've introduced our accessories division and provided you with a free, one-page price sheet that you can download from our website. It features brand, description, OEM number, and more information on the pulse oximeters and data cables that we have available. Click here to download the price sheet.
Not only do we offer these items (along with others not listed on the sheet), but you can purchase them online through our website. Online ordering is quick and easy and can be done anytime. We accept online orders using a hospital PO, so you don't even need a credit card.
No matter what brand your hospital uses, BMES more than likely has the accessories you're looking for. When it comes to leadsets, we offer the following brands:
Browse the selection and pay online using your hospital PO. If you can't find what you're looking for or have a question, our customer service department is always willing to help.
Thank you for the opportunity to serve your bio medical repair needs!