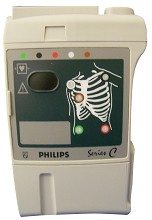 In this medical repair how-to guide, BMES is giving you step-by-step instructions for repairing your Philips M2601A telemetry transmitter. Before sending your device in for repair, follow the steps below to see if the problem can be solved in house. If you're ready to send your medical equipment to us for repair, learn more about our Pack and Ship program.
STEP 1 Replace leadset with known good leadset.
STEP 2 Replace battery with known good battery.
STEP 3 Check and make sure that transmitter and central station programmed frequencies are correct. 600Mhz transmitter frequency should equal central station receiver frequency + Option Number on down converter.
Example:
Frequency of transmitter 608.6875Mhz
Frequency of receiver at central for Option Number 148 down converter would be 460.6875Mhz. (608.6875Mhz-148Mhz) . For programming instructions go to bmesco.com and download instructions for your system. These instructions will also guide you on how to relearn the code for your transmitter if you have an error code EO1 INVALID SIGNAL message in the sector you are working with.
STEP 4 Make sure receiver frequency has the correct check code matched with it under check code column.
STEP 5 If all above problem solving suggestions have failed, please send transmitter to BMES for repair. You can mail your transmitter to: 2709 South Park Road, Louisville, KY 40219.