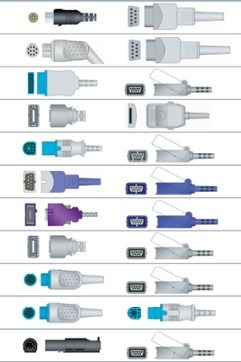 Last week BMES introduced a new, one-page price sheet that allowed biomeds to easily see which pulse oximeter sensor they needed based on OEM part number, product description, photo, and more. This price sheet also lists information for adapter and extension cables.
One feature that will make your job in choosing the correct adapter and extension cable easier, is that the picture of the connector cable shows both ends of the cable. It also lists the length of the cable.
Below is a list of products and OEM numbers listed on the price sheet. Download the price sheet here for more information.
Datascope  0012-00-0516-02
Datex OXY-C3
GE / Marquette E9004GE /2006644-001
Masimo / Datascope PC 08 / 0012-00-1099-01
Masimo / Philips LNC MP10 / 2281
Nellcor DEC-8
Nellcor DOC-10
Nellcor MC-10 / SCP-10
Philips M1900B
Philips M1940A
Spacelabs 700-0002-00
This quick reference sheet lists some of our popular cables; however, we have more to offer than what is listed here. Call our support team if the product you need is not on the list.
Remember, online ordering is available 24 hours a day using a credit card or hospital purchase order. Let us know if we can assist you further!