Telemetry Repair
At BMES – Biomedical Equipment Repair Services- we specialize in patient monitoring and telemetry repair. Our deep understanding of cardiac monitoring, spo2 and telemetry systems allows us to quickly diagnose and service most major brands including: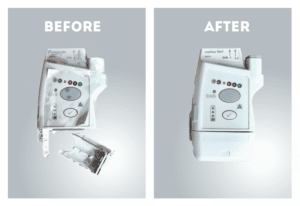 Phillips intellivue, GE Apex, Space labs and much more.
Our expert telemetry repair technicians are trained to repair or replace most common breakpoints quickly and effectively leading to an industry leading turn around. Common telemetry repair services: screen replacement, frequency calibration, programming, component repair, parts replacement.
View our patient monitor service catalogue below or start a repair order now.